WCHA Members Spotlight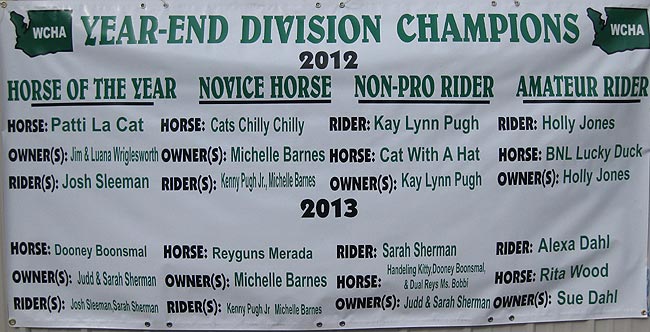 2013 WCHA Horse of the Year -$1000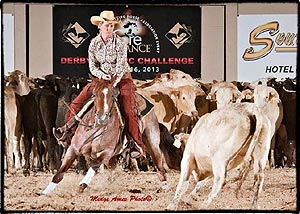 Dooney Boonsmal had an amazing 2013 year winning over $ 42,000 while being ridden by Josh Sleeman and owner, Sarah Sherman. The pretty roan mare is by Peptoboonsmal out of Darling Nurse, by Dual Rey. Judd and Sarah purchased "Dooney" when she was a day old. The 2013 season started with a bang when Dooney and Josh marked a 155 at the Spring Idaho LAE. They went on to win a Championship and were a multiple Finalist. Dooney and Sarah were Reserve Champion all three days. At the Western Nationals Dooney was a Finalist in the 3000 Novice class. The Pacific Coast Cutting Horse Association was a show Sarah will long remember. They were the 5/6 Non Pro 10,000 , 100,000 and 200,000 Champion. Plus, they were a Finalist in the Non Pro 5/6. Of course, there were also many weekend show successes for Dooney. The year ended with Dooney winning the 5/6 Open at WCHA and the 5/6 Open Reserve Championship at Calgary.

Reyguns Merada is the 2013 WCHA Novice Horse. -$500


Barry Barnes purchased him under the guidance of Kenny Pugh Jr. as a three year old. "Willy" proved to meet their expectations. Shown by Kenny in the Open and Michelle in the Non Pro novice classes he always gave 100%. Michelle says that above all he has a kind and gentle soul that just wants to please. Reyguns Merada, now seven, was sold and he is a Canadian.


Non Pro - Sarah Sherman -$500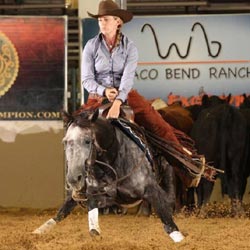 Sarah Sherman is the 2014 WCHA Non Pro Division Champion. She has always had a love for horses. As a child she was in 4-H. She decided that horses were going to always be a part of her life. Dental School and two children delayed her horse dreams, but if you have ever been around Sarah you can tell that she is a very high energy, goal oriented person. Before being involved in cutting she enjoyed success in snaffle bit futurities and was a NRCHA Amateur Futurity Champion.
She and husband Judd purchased some well bred cow horses. When some showed more aptitude in cutting they switched disciplines and started working with trainer Josh Sleeman. Sarah still plans to ride snaffle bit horses when the right horse comes along.
Sarah showed three horses in 2013, Dooney Boonsmal, Handling Kitty and Dual Reys MS Bobbi. She works hard juggling being a mother, working in their business, Todays Dental, and riding her horses. Congratulations Sarah and good luck in future goals. We know you have some young horses coming up, so the dream continues.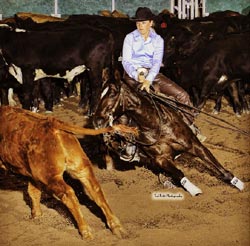 WCHA 2013 Amateur Award Alexa Dahl - $500
Alexa has been showing cutting horses competitively for about 6 years. In 2012 she stepped up to the 15,000 Amateur. As the summer rolled around, she found herself very close to the top fifteen in the world. With the help of Kenny and Kay Lynn Pugh, she traveled to shows much farther from home and as far as Arizona resulting with her being in the Top 15. She went on to compete in the World Finals at Ft. Worth. She won all three goes and ended up the 15,000 AM World Show Champion and the 2012 Reserve World Champion. Alexa would like to give a huge thank you to Dan and Karen Hansen (KP Bar Ranch), Ron Crouch, Kenny Pugh and Josh Sleeman for their help at the show!

Alexa's greatest mentors and inspiration come from Dan and Karen Hansen. They have helped her set goals for herself and achieve them. She spends every minute she can learning from them, not just cutting, but also running her P3 Equine Therapy business. Both Alexa's horses, Rita Wood and Woody Jazz, come from the KD Bar Ranch.

Some of Alexa's recent accomplishments include:
2013 NCHA Area 1 50,000 Amateur Champion
2013 WCHA Amateur of the Year, 50 AM Champion, SR. Youth Champion
2012 NCHA 15 AM World Show Champion, 15 AM Reserve World Champion
2012 Western Nationals: 50 AM Co-Champion, 15 AM Finalist, Sr. Youth Finalist,
5000 Novice Horse NP Finalist

Alexa is currently finishing high school on line and plans to graduate in June 2014. She would like to thank everyone who helps her at all the shows and appreciates their hard work and dedication to the sport she loves so much.
---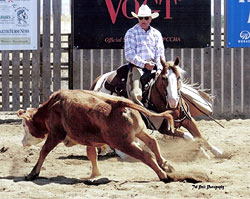 SENIOR CLASS AWARDS
Ron Davis, Senior Class Ride Off Champion and winner of $500!
Ron Davis and RD Bud Light are a team to be reckoned with. They are no stranger to Awards. They were 2007 NCHA World Champion $3000 Novice /Non Pro. Of course, they have also won many affiliate Year End titles and NCHA Area titles. Congratulations Ron!
Senior Class Saddle Winner


Susan Walker riding Tomahawk Taz won the beautiful saddle built by WCHA member Chuck Black. This was the second saddle Chuck has donated to WCHA for the Senior Class. It is awarded to the high money winner for the year. Susan would like to thank Chuck and "Tommy's" trainer, Josh Sleeman, plus the wonderful turnback helpers who so willingly help us all.

2014 Senior Class
WCHA is offering the Senior Class in 2014.
The Ride Off for $500 will be held during the Finals show in September. To be eligible to compete in the Ride Off you must have ridden 50 % + 1 the number of times the class is offered.

Chuck Black is generously donating another handcrafted saddle for the 2014 high money winner in this class.

WCHA thanks you, Chuck!
Click on name to read more member spotlights: