WCHA Member Spotlight

Roxy Kinnaman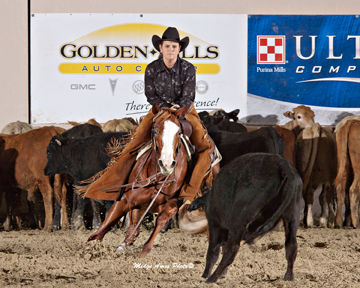 Many of you know Roxy Kinnaman, a competitor and owner of fine cutting horses. Some of you may know Roxy and her husband, Craig, own and operate Kiperts Feed and Trailer Sales. They have a daughter, Lynzie, who is a freshman at Central Washington University. Roxy is also a cutting horse photographer and has an embroidery business. Most of the WCHA embroidered awards were stitched by Roxy.

I doubt if any of you know that Roxy had a job adjusting jail time for felons or that she traveled the United States recruiting transportation engineers. But perhaps it was working Sundays at Dels Farm Supply while going to school at St. Martins College that influenced her to write a business plan for an assignment in one of her classes. It was this plan that Roxy and Craig submitted to the county for approval for their store. That was about twenty years ago.

Roxy didn't get involved with cutting until 1993 when she had the opportunity to ride a cutter. She said it was that experience that got her started into cutting. But I think her draw to cutting goes back many years before that. Did I mention that Roxy was born in Dallas, Texas? Though she only spent the first year of her life in Texas I am convinced that this is where she got the cutting bug.

Roxy has owned some sons and daughters by many leading sires such as High Brow Cat, Haidas Little Pep, Dual Pep, Highbrow Hickory, Miss N Cash, Smart Little Lena, and Dual Rey. She currently has a Dual Rey four year old mare in training with Josh Sleeman. They plan to double up on her this year in some Limited Age Events. When asked what was her most memorable ride she said it would be when she rode Smart Cash Cruiser at The Breeders Invitational. She enjoyed the big time feeling of this event…the attention and focus of studying the cattle with your trainer and having your team helping you locate and cut specific cows. She said she didn't make the finals but will never forget the experience. WCHA wants to thank Roxy Kinnaman for her long time support.

Click on name to read more member spotlights: