WCHA Member Spotlight

Don & Pat Noble of Noble Panels & Gates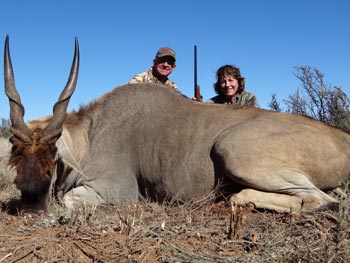 Don and Pat Noble are WCHA 2013 Gold Sponsors. I finally tracked them down at the fall Idaho Futurity where they were a vender. They are very busy people between the business and an occasional fishing or hunting trip.
They took two trips with friends and WCHA members Jim and Luana Wriglesworth. One trip took them to Africa where they hunted. Don had hunted there before and determined it was a good place to take Pat. While Jim and Luana took photos, Pat wanted in the action. She shot a 2000 pound Eland, which is the largest of the antelope family. For you hunters she used a 7mm gun. Another trip they took together was an Alaska fishing trip. Some great kings were caught and all had lots of fun. This fall you will find Pat in Wyoming. Pat will hunt for elk and Don will be the photographer. Pat explained to me that whenever they hire an outfitter, Don is adamant about checking out the experience of the horses that they will be riding. Some of the terrain is steep and rough.
The Nobles have been around livestock all their lives. When Don was a teenager he took hunters into the Sierra Nevada. He had mule strings as large as thirty-five mules. Their livestock knowledge, insistence on quality and safety is the cornerstone of Noble Panels. It all started about 1980 when they needed some holding areas for their horses. Don could weld so he made some panels. People liked what he was building and in a few weeks he had hired five people and started producing for others. I learned that what separates their panels, gates, and fencing from their competitors is that when they have the steel milled they insist on more carbon in the metal. This makes it stronger. Also they can custom build for your needs. You can find examples of this custom work at the Gorge Amphitheater where they built small "beer stalls," or the large renovation of the stock holding pens for the Pendleton Round Up. Recently they worked with Chubby Turner to build a Texas facility for the J5 Ranch in Weatherford. Chubby was very specific about certain things like having all the metal colored green.
The manufacturing facility is on the Noble resident property and is managed by their son, Chris. They employ about thirty employees. Materials are milled in other states and sent to them in 24foot lengths. All materials are USA made with the exception of a nut and bolt they haven't been able to find in the USA.
I enjoyed my chat with Don and Pat and learned so much about their adventures and the beginnings of Noble Panels. If you have the opportunity to talk with Pat ask her if she shot that trophy elk this fall. I hope we can get some pictures on the WCHA Website.
Click on name to read more member spotlights: