CONGRATULATIONS!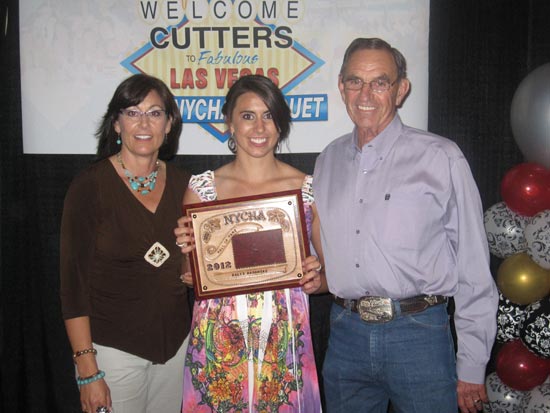 RALEY MAE RADOMSKE, INDUCTED INTO THE NATIONAL YOUTH CUTTING HORSE HALL OF FAME

Raley Mae, her parents and grandparents recently returned from the 2012 National Youth Cutting Horse Association's convention in Ft. Worth, Texas where she was inducted into the National Youth Hall of Fame.

This is the commentary that was written by the NCHA and read during the induction ceremony:

Raley Mae Radomske is from Ellensburg, Washington. Raley Mae has been involved with cutting for 14 years. Over the years she has shown Oaks Gambriel, Me N Peppy, Starlight Fancy and Venture On Me. Raley Mae's favorite story with her horse is dressing herself and "Harry", (Venture On Me) as clowns and showing in a team cutting at Klamath Falls, Oregon. She marked a 150 and also won best dressed. Her greatest cutting moment was winning the Girl's Cutting and All Around Cowgirl at the 2008 National High School Finals Rodeo, and she says that she owes "it all to my amazing horses." Another great moment was being crowned "2004 NCHA World Champion $10,000 Amateur".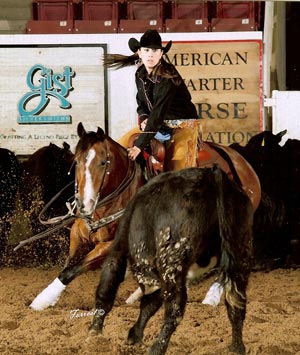 Raley Mae is currently entering her senior year at New Mexico State University, in Las Cruces, NM, where she is studying Agricultural economics and business while seeking a minor in marketing. Always a high achiever, Raley Mae spent the past semester in Chicago, participating in a working internship with Mercuria Energy Trading and in the future, plans to attend graduate school to obtain her MBA in either Marketing or Agricultural marketing.

For their support, Raley Mae would like to thank her amazing parents, Harland "Ske" and Jody, who have given her the foundation to become successful and helped her in all of life's struggles and challenges.

A constant source of inspiration, Raley Mae offers this wisdom: "I am from an area that has a very small number of youth participants, For people that have faced the same struggles, do not become discouraged. Always stay active in the LEAP program because there are many great opportunities that it offers".